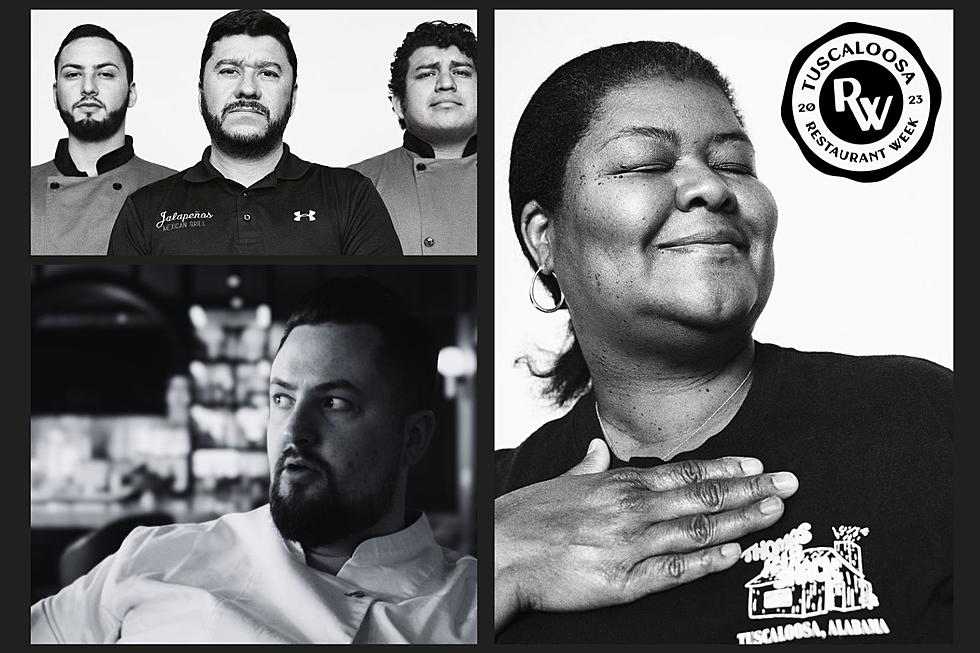 Celebrate the City's Culinary Scene During Brand-New Tuscaloosa Restaurant Week!
(Photos by Miller Mobley and Stephen Dethrage)
Visit Tuscaloosa and Townsquare Media are thrilled to invite you to celebrate the city's diverse culinary culture next month in the inaugural re-imagination of Tuscaloosa Restaurant Week!
The tourism bureau, the Tuscaloosa Thread and Townsquare's eight live and local radio stations are teaming up to highlight the most decadent diners and dishes the Druid City has to offer.
From barbecue to bouillabaisse to the perfect burrito Verde, we are partnering with many of the city's most in-demand cooks and chefs to brag on their finest foods and learn more about the hands that prepare them.
Tuscaloosa Restaurant Week will kick off on June 25th and serve as a six-day showcase of world-class food made and sold in the city every day. From longtime local favorites including Chuck's Fish and Jalapeno's Mexican Grill to fine and fresh newcomers including Forté: Cuts & Cocktails and Urban Bar & Kitchen, we will highlight the hottest in local hospitality.
In addition to being featured on-air and online, participating restaurant plan to offer unique menu items or special discounts, so stay tuned for those announcements.
"Visit Tuscaloosa is excited to launch Restaurant Week 2023! We have a diverse culinary scene in Tuscaloosa that we are eager to help promote," said Josh Rivers, Director of Community Development at Visit Tuscaloosa. "Our restaurants have talented chefs who do an amazing job creating creative and delicious dishes. You won't want to miss this opportunity to indulge in this event and experience some great pricing options!"
We're not limiting the fun to just our friends with brick-and-mortar locations, either -- Tuscaloosa Restaurant Week will wrap up in the heart of downtown with Food Truck Friday. Some of the area's most beloved eateries on wheels will be at that night's free Live at the Plaza concert.
"As Tuscaloosa County's destination marketing organization, Visit Tuscaloosa is constantly seeking new ways to share the qualities that make our community a dynamic place to live, work, play, and visit," said Kelsey Rush, president and CEO at Visit Tuscaloosa. "Through destination promotion, we get to shine a light on the many individuals and businesses that make our community so unique and the launch of Tuscaloosa Restaurant Week enhances our ability to increase those efforts."
Businesses in the city can learn more and sign up to participate today at tuscaloosarestaurantweek.com, and foodies should mark their calendars for the inaugural Tuscaloosa Restaurant Week kicking off on Sunday, June 25th - you won't want to miss it!
Restaurants and Retailers Who Opened, Announced or Moved in 2023
A running list from the Tuscaloosa Thread of all restaurants and retailers who have opened, announced plans to come to the area or relocated so far in 2023.
Top Stories from the Tuscaloosa Thread (5/8- 5/15)
16 of the Top Stories published by the Tuscaloosa Thread during the week of May 8th, 2023.